Easy Trade of the Day:
CAR falls back to support
The 1-year chart of Avis (NASDAQ: CAR) with the added notations: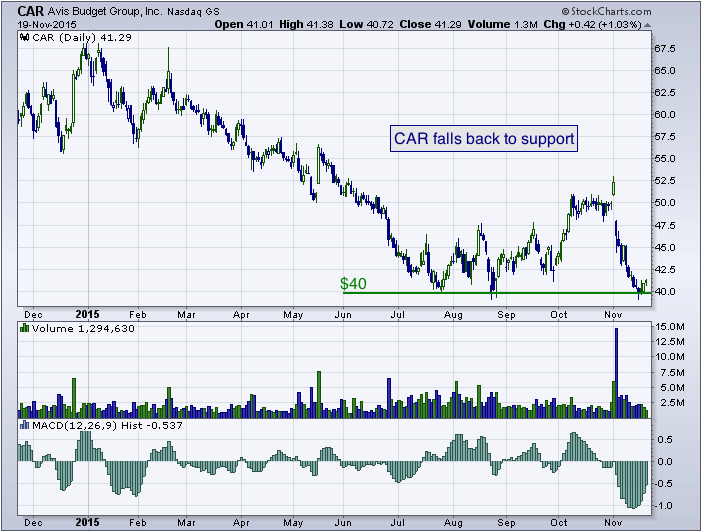 CAR has been trading mostly sideways on top of a clear $40 support (green) during the most recent 4 months. Now that the stock appears to be testing that support level again, traders should be able to expect some sort of bounce. However, the stock's recent dive is a bit concerning. If the $40 support were to break, lower prices should follow.
The Tale of the Tape: 
CAR has a key level of support at $40. A trader could enter a long position at $40 with a stop placed under the level. If the stock were to break below the support a short position could be entered instead.
Before making any trading decision, decide which side of the trade you believe gives you the highest probability of success. Do you prefer the short side of the market, long side, or do you want to be in the market at all? If you haven't thought about it, review the overall indices themselves. For example, take a look at the S&P 500. Is it trending higher or lower? Has it recently broken through a key resistance or support level? Making these decisions ahead of time will help you decide which side of the trade you believe gives you the best opportunities.
No matter what your strategy or when you decide to enter, always remember to use protective stops and you'll be around for the next trade. Capital preservation is always key!
Good luck!
Christian Tharp, CMT
@cmtstockcoach